Rely on Basil Ford for Ford OEM Parts!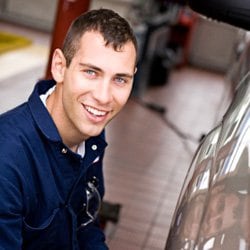 Here at Basil Ford, it's our goal to make shopping for Ford OEM parts as simple as possible. Whether you drive a Ford F-150, Explorer, Edge, Mustang or Fusion, you want to be confident that your vehicle is safe for the Buffalo roads. Luckily, drivers from Depew to Lancaster can rely on the experienced auto parts team at Basil Ford for high-quality Ford OEM parts and accessories.
Whether you need Ford F-150 parts or Ford Explorer parts, we'll locate the right component for your vehicle to give you more peace of mind during repairs! We hope to be your resource for all things auto parts in the Buffalo, NY area. Get in touch with our Ford parts center on Walden Ave. in Cheektowaga with any questions you may have!
OEM Ford Parts vs. Aftermarket Parts
In search of Ford F-150 parts and accessories? While it may be tempting to save money on aftermarket parts, cheap parts can actually harm your Ford in the long run. Ford OEM, or original equipment manufacturer, parts are made specifically by Ford for Ford vehicles. That means you can trust that they will function properly and won't harm your vehicle.
Here are just a few more reasons to trust OEM parts and accessories:
We offer additional Ford-backed brands including Omnicraft™ and Motorcraft®
Your vehicle may not be eligible for warranty repairs if you use aftermarket parts
Your can quickly and easily order parts from our dealership -- give us a call!
So when you need auto parts in Buffalo, NY, allow the team at Basil Ford to help you out. We'll set you up with OEM Ford parts for a great price. Even if we don't have what you need in stock, we'd be happy to order it for you.
Order OEM Ford Parts Today!
Ready to purchase Ford parts in Buffalo, NY? Make sure to check out our Ford part specials before shopping anywhere else. To do so, simply check out our online specials, submit an online order form, or come visit us in person -- we're open daily during regular business hours. Our Ford parts center is located on Walden Ave., and we're happy to help you out with anything you need, whether that's Ford F-150 parts for your truck or performance accessories to amp up your everyday drive.